"There is a big discovery to be made,
and this lies in an epochal change."
– Bryan Kavanagh, Land Valuer (Ret.) ATO


– Part 1
Introduction

– Part 2
1834 Crown land grants

– Part 3
1880 - 1895
Foreign Influence
The Commonwealth

– Part 4
1901 - 1919
Federation & Single Tax Movement
Foundation of the Australian Tax Office
Origin of Reserve Bank of Australia
The State of Victoria Adopts Site Value Rating

– Part 5
2007 - 2011
Unlocking the Riches of Oz
Australian Treasury Department tax review
A Big Mistake: Deputy PM Julia Gillard's Big Opportunity

– Part 6
Key factors for Australians to remember
Good Government Leads
Opportunism takes many forms
Vision for the future

"The whole of the people have the right of the ownership of land
and the right to share in the value of land itself,
though not to share in the fruits of land
which properly belong to the individuals
by whose labour they are produced."
— Alfred Deakin (1857-1919),
Prime Minister from 1903-1910.
Timeline: Australian Prime Ministers


Part 1
Introduction

"There is increased interest in land taxation in Australia and internationally, as reflected for example, in the Henry report on tax reform in 2010...." (Ingles, 2016)

Resources:
Institutions with an active interest in tax and transfer policy.
See also
– 2010 AU Treasury Dept. Henry Review:
"Australia's Future Tax System"
– 2010 UK Mirrlees Review:
"Reforming the tax system for the 21st century."

Australian National University's Tax and Transfer Policy Institute currently leads the academic debate in Australia:
A Stocktake of the Tax System and Directions for Reform: five years after the Henry review (Stewart, et al. 2015) includes valuable insights and references:
Tax reform is in the news daily. Calls for fundamental reform have become louder, but there are diverse views on the direction and scope of the reform that is needed. . . . Five years ago, the Henry Review (Report on Australia's Future Tax System, Henry 2010a) made a detailed examination of Australia's tax and transfer system. . . . Tax reform is fundamentally political. Rather than recommending specific reforms, we aim to identify key principles and directions for tax reform and to show what we know, and where the gaps are in our knowledge of tax policy. (Download pdf)
2016 report:
Taxes on Land Rent
Tax and Transfer Policy Institute
PDF: TTPI - Working Paper 6/2016
September 2016
Dr David Ingles, Senior Fellow, Tax and Transfer Policy Institute, Crawford School of Public Policy, Australian National University
Abstract
There is increased interest in land taxation in Australia and internationally, as reflected for example, in the Henry report on tax reform in 2010 and the UK Mirrlees Report in 2011. This interest stems from the immobility of land as a factor of production, which stands in contrast to other factors such as capital and labour. Logically, immobile factors can be taxed more heavily and with less efficiency cost than mobile ones. The interest in land taxation revisits the work of the 19th century reformer Henry George but in fact has antecedents going back to Ricardo and before. By making land more expensive to own, we can (somewhat paradoxically) make it cheaper to buy. At the extreme a 100 per cent tax on land rent reduces the capital value to the annual rental value; that is, to around 3-5 per cent of the untaxed value. A 5 per cent tax reduces the capital value of land by half, and a 1 per cent tax reduces it by 17 per cent. However the lump-sum nature of land taxes – and their high visibility to taxpayers – makes them politically very difficult to raise. The theoretical revenue available, which is one-third to one half of all Commonwealth tax revenue, may be practically unavailable.
Critique of the above abstract.
1. "...expensive to own, we can (somewhat paradoxically) make it cheaper to buy."

The land would be less difficult to buy, e.g. no deposit or bank loan with interest or stamp duty required, and a home would be affordable to lease. Location, location, location is everything.

2. "However the lump-sum nature of land taxes..."

As Milton Friedman and others have recommended, if you wanted to reduce the burden of the lump-sum annual land tax, 'the way to do it would simply be to provide for an effective method whereby it could be withheld at source, in small payments and that would eliminate a large part of the objection to it'.

3. "...their high visibility to taxpayers – makes them politically very difficult to raise."

All taxes are difficult to raise. Good government leads. A major 'tax-shift' needs to be clearly explained: That economic rent theorem represents a self-supporting system 'flow'; cycling of 'user-fees' or economic/resource rent into the community has rewards in equitable shares of surplus which enhances or maintains rather than degrades or destroys society (shades of Alfred Deakin).

4. "The theoretical revenue available, which is one-third to one half of all Commonwealth tax revenue, may be practically unavailable."

This conclusion isn't based on empirical evidence. "Revenue available" does not represent a revenue stream. It is a surplus, representing effective fiscal management. After outlays and expenditures, surpluses can be shared as dividends, aka "Citizen Dividends".
During a January 2012 lecture series on philosophy and economics, Australian economist Dr John Tippett debated questions amplified in
A Philosophers Take on Economics (2012):
– What are the implications of the global financial crisis on current thinking and living?
– Have recent events been fair and just?
– How may we live together in communities in prosperity, unfettered by the strictures of necessity?
– Have we been set free by the economic activity of the past 20 years?
"Science explains and understands the world of matter; philosophy explains and understands the world of spirit. Economics is the meeting place of these two worlds. Whilst the immediate concern of economics is policy in the 'world of matter', the key participant in economic life is the human being, whose ultimate purpose of participation is to do with the 'world of spirit'. Hence economics meets these two realms, stands at their interface. Its task is to ensure the rule of justice" – Dr John Tippett, 2012
Part 2
Crown land grants
Back to top
1834
Crown land grants
In his John Murtagh Macrossan Lecture, 1974, The Honorable Rae Else-Mitchell's (1914-2006) described the impacts of Crown land grants at the settlement of Australia. In many instances, Crown land was granted to British aristocrats who'd never set foot on Australian soil, reminiscent of the American "Reformation Restoration Colonies" (McIlvenna, 2009).
Lecture excerpt:
When Captain Arthur Phillip, with his band of colonists one thousand or more strong, established the first settlement on Australian soil at Sydney Cove in 1788 the title to all the east coast of the continent from the 135th meridian of longitude became vested in the Crown. Sir Francis Forbes, Chief Justice of the Supreme Court of New South Wales, said in 1834:

"It is a matter of history that New South Wales was taken possession of, in the name of the King of Great Britain, about fifty-five years ago. This Court is bound to know judicially, that an Act of Parliament passed in the 27th year of King George the Third (cap.2), enabling His Majesty to institute a colony and civil government on the east side of New South Wales. The right of the soil, and of all lands in the Colony, became vested immediately upon its settlement, in His Majesty, in right of his Crown, and as the representative of the British Nation. His Majesty by his prerogatives is enabled to dispose of the lands so vested in the Crown. It is part of the law of England that the prerogatives can only be exercised in a certain definite and legal manner. His Majesty can only alienate Crown lands by means of a record — that is by a grant, by letters patent, duly passed under the Great Seal of the Colony, according to law, and in conformity with his Majesty's instructions to the Governor"
– King v Steel: Legge's Report 68-69.
Part 3

1880 - 1895

Foreign Influence

Back to top
The Irish
The majority of early settlers in Australia were from Ireland, including convict 'transportees', political escapees, and refugees from Ireland's famine "Holocaust". (In addition, see 7 ESSAYS by James V. Mullin, author of The Irish Famine Curiculum, here)

From the late-1800s, free settlers would have been aware of the Irish Land League campaigners Michael Davitt and Charles Stewart Parnell. One of the key Land League supporters was the Rev. Dr. Thomas Nulty, Bishop of Meath (1816-1898) whose address on the land question, delivered to his diocese, has become legendary: Back To The Land, (1881), "The system of land tenure in Ireland ... has created a state of human existence which in strict truth and justice can be characterized as the twin sister of slavery."
The Americans
Michael Davitt read American journalist Henry George's "Progress and Poverty" (1879) four times before personally seeking him out. In 1882 he said, "If a copy of that book can be put in every workman's club and Land League and library in the three kingdoms the revolution will be made..." Source: CH IV, Life of Henrgy George (well worth reading the entire report).

Henry George's wife Annie Corsina Fox-George (1845-1904) was an Irish-Australian. As an emerging reporter and editor for several papers, including four years (1871-1875) as editor of his own San Francisco Daily Evening Post, it comes as no surprise that George's first writings were concerned with the impact of land confiscation and speculation. In his 1871 pamphlet, Our Land and Land Policy (pdf), George first used the term "Ulster Custom" when he set out his theory on monopoly and poverty, and advocated a single tax on land. George's first published response to the events in Ireland was on article for the Sacramento Bee on December 24, 1879.
According to T.W. Moody, (1981, p. 283),
The local custom in question was the "Ulster Custom," common in the North, where landlord and tenant shared the Protestant religion and a common culture. Frequently summarized as the "'Three F's' (Fair Rent, Fixity of Tenure and Free Sale of improvements"), the Custom provided tenants with a degree of security in their holdings and ownership of any improvements that they made to the land. The Ulster Custom did not have the force of law, but it apparently did have what we would nowadays call the force of public opinion, or the people's sense of what was fair.. . . A cottier is a landless laborer. In Ireland at this time a cottier might rent land on conacre, usually for a term of eleven months, long enough to plant and harvest a crop but not long enough to establish a relationship between landlord and tenant." (Moody, 1981, p. 283)
George elaborated in The Irish Land Question: What it Involves and How Alone It Can Be Settled, published on February 28, 1881, arguing against the Irish Rack Rent system (auctioning farms to the highest bidder every year), which Davitt's Irish Land League was founded to undo.
Irish-American journalist Patrick Ford (1837-1913), editor of the New York paper "Irish World", funded Henry George's year-long tour of Ireland, (1881/82). Henry George and his family had moved to New York to launch "Progress and Poverty" (1879), but his arrest in Ireland by the British, as a reporter for the Irish World, and the consequent report in The New York Times, catapulted Henry George onto the international stage.
THE scenes into which Mr. George was hurrying exceeded his fondest wishes. Next to Gladstone, he was at the moment the most talked of man in England. This was chiefly because more than forty thousand copies of the sixpenny edition of "Progress and Poverty" had been sold.
British lecture campaign, CH VI, 1884
Rev. Dr. Edward McGlynn, of St. Stephen's Catholic Church, one of the largest in New York, a leading campaigner for the Land League movement, was challenged by the Vatican, including excommunication for refusing to curtail his pastoral efforts in support of the "Single Tax" movement.
Referring to Henry George, Edward McGlynn said, "[George] is one of the greatest geniuses that the world has ever seen, and . . . the qualities of his heart fully equal the magnificent gifts of his intellect. . . . He is a man who could have towered above all his equals in almost any line of literary or scientific pursuit." – Louis F. Post and Fred C. Leubusher, 1887.

1890
On March 6, 1890, Henry & Anne George arrived in Sydney for the start of a 98-day public lecture tour, covering 34 cities and towns across the country: a cheering crowd marching in procession with a brass band accompanied the Georges in a four-horse coach, to the Town Hall, where the Lord Mayor made an official speech of welcome. – Association For Good Government
Professor John Pullen, at the University of New England, Armidale, NSW, documented this history in Nature's Gifts: The Australian Lectures of Henry George on the Ownership of Land and Other Natural Resources, (2014) which geography professor John Holmes (2015) credits as the first "critical study of reforms proposed by Henry George – equal rights to land; land taxation; land prices; land rents; land nationalisation; and free trade and protection."
"Pullen's day-to-day chronicle and thoughtful appraisal of Henry George's fourteen-week Australian tour in 1890 provides much-needed further insight into a formative period in Australian political history. ... Pullen observes that this tour was actively supported by nonconformist ministers but hardly ever by Anglican or Catholic clergy. ...Of particular value is Pullen's informed scrutiny of the fundamental principles and the common misunderstandings and misrepresentations of Georgism ..."
– John Holmes, Australian Journal of Politics and History: Vol 61/3, 2015, pp. 450-483
1891
The Commonwealth
In April 1891 a National Australasian Convention was held in Sydney to discuss the joining of the colonies in a federal system, culminating in Federation in 1901. "The phrase 'Washminster' has been used to describe our system of government, as it blends features of the British Parliament and US federal model." – Parliamentary Education Office

An international competition to design Australia's new capital city was won by the American architects Walter Burley Griffin and Marion Mahony Griffin, both of whom had worked closely with Frank Lloyd Wright and were supporters of the ideas of Henry George.

The Vatican
While the Anglican Church of England did not endorce the Progressive Era's Land Value Tax movement, the Roman Catholic Church chose a pro-active stance (see references here):
In 1891, Pope Leo XIII reined-in the growing number of priests and laity supporting Henry George's "Single Tax" movement by issuing an encyclical, Rerum Novarum – "of revolutionary change" – Rights and Duties of Capital and Labor – which had the impact of formally categorising "Land" as capital when land does not 'turn over' in the sense of capital turnover.

Professor Mason Gaffney's 1997 lecture, updated and expanded in 2000, provides a thorough analysis of the Vatican's role in shaping economic history.
Download the PDF:
Gaffney, (2000), Henry George, Dr. Edward McGlynn, and Pope Leo XIII
1895
"The Father of the Irish National Land League", Michael Davitt (1846-1906), one of the most influential leaders of Ireland's independence movement, toured Australia in 1895. In his diary, published in 1898, Michael Davitt states:
Australasia is, in fact, an industrial empire of unfederated Labour nations, where neither wars not foreign policies intrude their demoralising influences upon the peaceful programmes and progress of domestic government. The people have the fullest and most effective control of their own affairs. There are no ruling classes. The Conservatism which shows itself in any organised form in the Legislatures has to be more democratic in its professions and programs than an opportunist English Liberalism dares yet to be. – Davitt, 1898, viii, Life and Progress in Australasia, Methuen
See more notes on Michael Davitt's history HERE
Michael Davitt too, was an advocate of Land Tax:
"I would abolish land monopoly by simply taxing all land, exclusive of improvements, up to its full value... In other words, I would recognize private property in the results of labour, and not in land." – Source: Some Suggestions for the Final Settlement of the Land Question, by Michael Davitt, (1902)
In Davitt's footsteps along the Murray
On 16 October 2012, Melbourne University Historian Val Noone comprehensively reported on his field trip to the sites of the Murray Valley labour cooperatives which Michael Davitt visited in 1895.
Excerpt: From 1893, in a time of high unemployment the South Australian government, pressured by the trade union movement, financed pioneer cooperative farming settlements along the Murray between Morgan and Renmark. Under the legislation "any twenty or more persons of the age of eighteen years and upwards may, by subscribing their names in the manner prescribed, form an association for the purpose of Village Settlement". A grant of 16,000 acres was made to any group of 100 families that applied. The government gave loans for supplies and equipment to 50% of the value of improvements made, with a three-year interest-free period and then ten years at 5%. This was a vision of a new cooperative and anti-capitalist way of doing things.
– Val Noone, 2012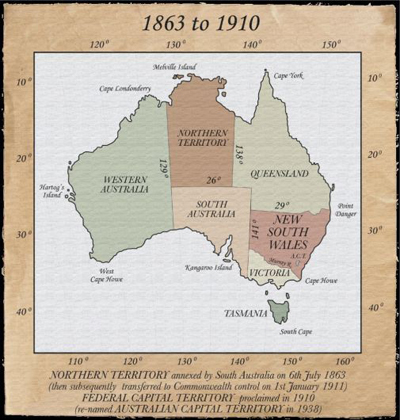 NORTHERN TERRITORY annexed by South Australia on 6th July 1863
(substantially transferred to Commonwealth control on 1st Jan. 1911)
FEDERAL CAPITAL TERRITORY proclaimed in 1910
(re-named AUSTRALIAN CAPITAL TERRITORY in 1938)
Part 4
Federation & the Single Tax Movement
Back to top
1901
On 1 January 1901, Australia became an independent nation
when the British Parliament passed legislation allowing the six Australian colonies to govern in their own right as part of the Commonwealth of Australia.
– Federation Gateway: The National Library of Australia

Australia's Founding Fathers were aware that land and resource monoply could be prevented by directing the flow of increased land values into the National Treasury. The ideas following from the American Progressive Era's "Single Tax Movement" influenced Australia's Founding Fathers and became the cornerstone of Australia's tax system with the launch of the Australian Tax Office (ATO) in 1910).

The Commonwealth of Australia emerged as a model of good governance –independent politically and economically.
1910
The Australian Tax Office (ATO) was established in 1910 under laws specifically designed for collection of Economic Rent via a land tax which is still in place in The Australian Capital Territory (ACT). (PDF: Federal land tax, archival document: Land Tax Act 1910)
1911
Origin of the Reserve Bank of Australia (RBA)
The 1911 legislation established the Commonwealth Bank of Australia. In 1959, this original body corporate was preserved as the Reserve Bank of Australia (RBA) in legislation, specifically to carry on the central banking functions; at that same time, the commercial and savings banking functions were transferred into a new institution, which carried on the old name of Commonwealth Bank of Australia. >>> more

Foundations of the Australian Monetary System 1788-1851 Butlin, S. J. (1910-1977).
THE story of Australian money is peculiarly fascinating for it is possible to trace its development from the primitive beginnings in a penal colony with no initial monetary arrangements through to a fully fledged modern system. Download pdf
1915
Income tax introduced to fund World War I
In an April 2016 ABC-Radio National interview, following the release of Unnecessary Wars (2016), legendary Australian historian Henry Reynolds stated:
Australia, in 1901, could so easily have become independent. … And this is something the British realised. The most significant colonial office official, a man called Sir Charles Lucas, and almost the only one who'd ever been to Australia - the others wouldn't want to go to Australia for god's sake! He said, in 1910 or 11, 'We have to accept, although we can't let this be known, that we need the dominions, Australia and Canada, in particular, more than they need us.' And I think that was right. We didn't need Britain any longer, and yet we remained tied to Britain until the middle of the 20th century. (14:00)
1919
The State of Victoria
How Victoria Adopted Site Value Rating
Excerpt from Forward
by A. R. Hutchinson, B. Sc. A.M.I.E. Aust.
October, 1962
Download the pamphlet in pdf format here
The years since World War II have seen a remarkable growth in the numbers of Victorian municipalities which have abandoned local taxation of buildings and other improvements and have turned to the rating of the site-value (unimproved land value) instead for their local revenues. … This rapid recent growth makes it timely to review the setps by which ratepayers secured the right of self-determination in the system by which their rate payments are computed.

An Act had been passed on 3rd February, 1914, to provide for optimal powers to make this change. This was the culmination of the efforts of many people but there was one fatal blemish. The measure was not to come into operation until proclaimed by the Governor in Council and this was not done until the value of land were assessed over the whole State under the Land Tax Act 1910 and available for use by municipalities. There were not forthcoming and indeed are not available from that source even today, some 48 years later. By 1919 it was evident that unless other means were provided to enable municipal councils to make their own valuations this praiseworthy Act would remain a dead letter.

To Hon. E. L. Kiernan is due the credit of introducing the small but vital measure needed, as a private member's Bill, and pressing it through Parliament with the blessing of all parties. This was indeed an achievement and it is encouraging to read the tone of the various members' speeches during the progress of the debates as recorded in the Hansard extracts which follow.
Hon. E. L. Kiernan's contribution did not cease with success in getting the vital measure carried. … (pp.1-2)
Debate in Legislative Council 19th November, 1919
From Hansard No. 20
(Bill read first time 29th July, 1919)
The Hon. E. L. Kiernan moved the second reading of this Bill. He said – This Bill should not require a great deal of discussion. It's object is to amend the Rating on Unimproved Values Act 1915. That Act contained one section which has prevented municipalities taking advantage to it. Section 4 provides –
Download the pamphlet in pdf format here
Bryan Kavanagh, Australian Tax Office Land Valuer (Ret.) explains:
Australia had a federal land tax from 1910 to 1952. Our valuations are updated and accurate ('highest and best use') assessment is produced once every two years by each municipality, and each State relies on this municipal valuation. The ideal would be to assess the actual land rental, rather than striking a rate in the dollar on the site's capital value, but that's a long way off here in Oz.
Note:
Assessment could be done every time there is a land transaction (sale or lease).
Part 5

2007–2011
Unlocking the Riches of Oz
Back to top
2007
A Case Study of the Social and Economic Costs of Australian Real Estate Bubbles, 1972-2006
by Bryan Kavanagh (2007).
During his tenure as Director of the Land Values Research Group and Land Valuer at the Australian Tax Office (over 30 years), Bryan Kavanagh produced his study on the long-term effects of property bubbles:
Download the 2007 report here.
Download his submissions to the Australian Treasury tax review.
1. Ineffective demand: a picture of a tax-induced economic depression
2. Mr. Kavanagh's private submission.
Mr Kavanagh's findings
According to Mr Kavanagh's study, collection of Resource Rent (Economic Rent) would allow Australia to remove all taxes on productivity, i.e. income, sales, pay roll tax – all business taxes. Mr. Kavanagh's research revealed, in May 2007, that if the Australian government collected just half the 'rent' due, there would be:
1. Sufficient funds for, all public services and public infrastructure, including free education and health care.
Basically, removing taxes on productivity and switching to 'user fees', aka economic/resource rent will support "Good Governance".
2. At 2007 value, an annual tax-free surplus-based 'Citizen Dividend' between AUD$34,000. and AUD$49,000, can replace welfare, social security, and unemployment payments.
Why should everyone receive a Citizen Dividend?
Because we are all shareholders in the global commons, when we pay the 'rent' we can then collect an equal share of the surplus, after all government services have been funded.

A cautionary note from Dr Fred Foldvary:
"The adoption of basic income would be an economic revolution, but it will fail if the source of funds is even higher market-crushing taxes. A complete and successful revolution towards economic justice and prosperity requires the funding of basic income from a land value tax."
– Fred Foldvary, Ph.D., San Jose State University
The AIM: Tax private use of land and resources, and ...
• Take taxes off improvements
• Take taxes off labor
• Take taxes off people
• Take taxes off income
• Take taxes off wages
• Take taxes off business and industry (Source)
Achieve individual liberty, limited government & free markets
by eliminating taxes on everything – except land and natural resources.
During the transition, restrict taxes to socially generated values, but quickly graduate to fees, leases, dues, etc.
Social and economic benefits:
Removal of taxes on productivity will encourage innovation.
No more tax accounting or reporting.
Removing land from speculative growth cycles will provide affordable land (and homes) for everyone.
No need for a bank mortgage to access land.
A 'Citizen Dividend' would support vocational choices with free education.
End needless suffering, poor health, and the misery of involuntary poverty.
2008
A turning point for 'moving forward' together
Setting the stage: Bryan Kavanagh's study, Unlocking the Riches of Oz, was released in May 2007 and Kevin Rudd was elected Prime Minister in November 2007, following the August 2007 stock market crash which led to the 2008 GFC.

In early 2008, Prime Minister Kevin Rudd commissioned Australian Treasury Secretary Ken Henry's tax review: Australia's future tax system (2010). The review confirmed the original intention of Australia's Founding Fathers: Collection of Economic Rent aka Resource Rent is the only efficient sovereign solution to detrimental effects of speculative real estate 'Boom-Bust cycles' and complicated tax-avoidance schemes.
Land-based revenues are sufficient to allow total abolition of company and personal income tax, according to former Australian Treasury official Dr. Terry Dwyer who undertook his PhD on the history of taxation theory at Harvard University. See Dr. Dwyer's submission to the Henry Review, The Taxable Capacity of Australian Land and Resources, Australian Tax Forum Vol 18 No.1 (2008).
"Most of us would like to have something for nothing. But the truth is we can't have that, so what we should do is to make sure our labour and our effort is untaxed and that the 'free ride' is enjoyed by us all collectively through the community, instead of making sure valuable natural resources end up in the hands of a select few who can grow fat on the labour of others." – Dr. Terry Dwyer
2009
"...Treasury head Ken Henry, Australia's most powerful public servant, a modern mandarin who learnt much from the recession of the early 1990s. Treasury's bold economic prescription for the crisis - go early, go hard, go households - was sound political as well as economic advice. The multibillion-dollar spending that held the economy up filled many voters' pockets and touched every electorate around the nation."
– Michelle Grattan, The Age, November 21, 2009
2010
Australian Treasury Department
tax review:
Australia's future tax system (2010) deemed collection of Resource Rent, aka Economic Rent via a Land Value Tax, the tax system of choice.
"Land Value Tax is efficient because the tax reduces the price of land but does not affect how it is used, or how much is used."
– Dr. Ken Henry, Treasury Secretary, Australian Gov. (2001-2011)

Excerpt:
Henry Review Recommendations (Treasury 2010b)
C2 — Land tax and conveyance stamp duty

Recommendation 51: Ideally, there would be no role for any stamp duties, including conveyancing stamp duties, in a modern Australian tax system. Recognising the revenue needs of the States, the removal of stamp duty should be achieved through a switch to more efficient taxes, such as those levied on broad consumption or land bases. Increasing land tax at the same time as reducing stamp duty has the additional benefit of some offsetting impacts on asset prices.

Recommendation 52: Given the efficiency benefits of a broad land tax, it should be levied on as broad a base as possible. In order to tax more valuable land at higher rates, consideration should be given to levying land tax using an increasing marginal rate schedule, with the lowest rate being zero, with thresholds determined by the per-square-metre value.

Recommendation 53: In the long run, the land tax base should be broadened to eventually include all land. If this occurs, low-value land, such as most agricultural land, would not face a land tax liability where its value per square metre is below the lowest rate threshold.

Recommendation 54: There are a number of incremental reforms that could potentially improve the operation of land tax, including: a. ensuring that land tax applies per land holding, not on an entity's total holding, in order to promote investment in land development; b. eliminating stamp duties on commercial and industrial properties in return for a broad land tax on those properties; and c. investigating various transitional arrangements necessary to achieve a broader land tax.
40 year projection
Parliament of Australia, Library Section Briefing, 2010:
"As stated in the Report's preface, the Review took a long-term perspective and intended the Report to be a guide for reform of the tax and transfer system in Australia to meet the challenges from the economic, social and environmental changes envisaged over the next 40 years. The 138 recommendations made in the report are therefore intended to be viewed in the medium to long-term perspective and not in the short-term context of a three-year Parliament." – Bernard Pulle, 2010
Stage One: Australia's future tax system (2010).
In 2001, mining companies paid approximately 40% of their profits as royalties to the state governments. By 2009, they paid less than 20%. Intending to lower taxes on the Australian business sector, Ken Henry called for an increase in revenues from the minerals resource sector via a Mineral Rent Resource Tax (MRRT) aka resource super profits tax (RSPT).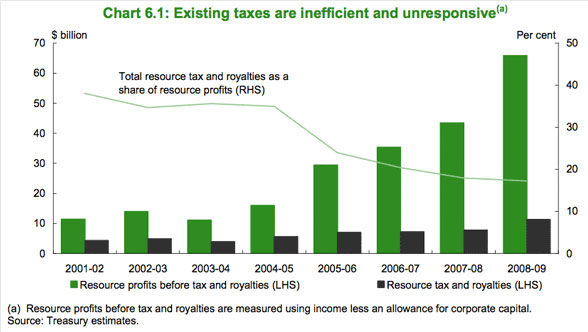 Source: Australia's Future Tax System: Report to the Treasurer p. 47


2011

A Big Mistake
Deputy PM Julia Gillard's Big Opportunity
Public servants are well informed of wide ranging possibilities for responsible government planning, but they are constrained by political directives, hence Prime Minister Kevin Rudd's directive to the Treasury Department provided an historic opportunity to be prepared, but, instead, he lost his 'job' to Deputy PM Julia Gillard. Following a massive lobbying and advertising campaign by the Minerals Council of Australia, Gillard's 'talks' with key members of the mining industry led to her agreement not to implement the Treasury Dept. recommendations if 'selected' Prime Minister.
Tax reform is fundamentally political.
It is significant that the Charter of the Commonwealth (2011) immediately followed the suppression of the Australian Treasury Department's 2010 tax recommendations.
Proposed for the 2011 Commonwealth Heads of Government Meeting (CHOGM) in Perth, Australia, and officially signed by Queen Elizabeth II on Commonwealth Day, 11 March 2013, the Charter defines sixteen core beliefs to be upheld and shared by all Members of the Commonwealth: democracy, human rights, international peace and security, tolerance, respect and understanding, freedom of expression, separation of powers, rule of law, good governance, sustainable development, protecting the environment, access to health, education, food and shelter, gender equality, importance of young people in the Commonwealth, recognition of the needs of the small states, recognition of the needs of the vulnerable states, and lastly, the role of civil society.
When you've paid your rent, you've paid your taxes.
If governments would collect their necessary revenue in the form of site rents, resource rents, monopoly rents and licence rents —all of which, by reason of their origin, accrue preferentially to the rich — they would not find it necessary to impose 'progressive' taxes on earned income.
— Dr Gavin Putland, Land Values Research Group
Stay up to date with Gavin Putliand's reports.

Part 6
Key factors for Australians to remember
Back to top
Good government leads!

Opportunism takes many forms.
For example –
i) "Malcolm Turnbull continues to put his own survival ahead of the national interest".
Questioning Turnbull government policy directives:
As a former investment banker and real estate speculator, identified as Australia's richest politician during the 2016 Australian federal election, Prime Minister Malcolm Turnbull was named in the Panama Papers off-shore tax haven scandal.
In addition, few are aware that in 1997 Malcolm Turnbull "became managing director of Goldman Sachs Australia, eventually becoming a partner in Goldman Sachs and Co".
ii) Speculative 'investment' opportunities following from trade with China:
Australian consumer purchasing power flows out of the country, instead of toward supporting local productivity. Those funds are then returned in exchange for land, aka real estate investment which a very small number of people profit from. One of Australia's foremost investigative journalists, Michael West provides an overview, in the public interest:
Credit Suisse estimates some $28 billion of Chinese money has been invested in the Australian housing market over the past six years. Assuming – and there is no way to put an accurate number on this – that half of that $28 billion is black money, then that's $14 billion of Chinese money inflating Australian house prices. >>> more
iii) Arms trade
Australia unveils plan to become one of world's top 10 arms exporters
PM spruiks jobs for local manufacturers but Tim Costello of World Vision says 'whatever money we make from this dirty business will be blood money'
by Gareth Hutchens
The Guardian, 29 January, 2018
Excerpt: Australia is set to become one of the world's largest arms exporters under a controversial Turnbull government plan.
The prime minister, Malcolm Turnbull, has unveiled a new "defence export strategy" setting out the policy and strategy to make Australia one of the world's top 10 weapons exporters within the next decade.
Hailing it a job-creating plan for local manufacturers, the Coalition says Australia only sells about $1.5bn to $2.5bn in "defence exports" a year and it wants the value of those exports to increase significantly. . . . >>> more
vi) "We're here to make money."
Some of our most exalted public figures share an interest in allowing foreign title to land and natural resources in Australia. Potential implications can be illustrated in just one of many vivid examples – and this includes insights reported by William Birnbauer (2003).Tapping Australia's water, The Age, May 7 2003 reporting on United Water's financial success and rising water prices, quoting South Australia's own Australian of the year 2003, Malcolm Kinnard (1933-2014)
"We're not here because we love the state and we've got bleeding hearts, for Christ's sake. We're here to make money. We're here to do business."
– Malcolm Kinnard, Australian of the Year 2003
But wait, there's more!
"Controversy follows the US giant Halliburton wherever it goes but little is known about its Australian operations." – until this 2005 comprehensive Sydney Morning Herald exposé of Malcolm Kinnaird (Kinhill Engineering and Kinhill Investments), whose "best friend" Robert Hill was Australia's Minister of Defence (2001-2006) and Permanent Representative to the United Nations (2006-2009). Robert Hill went on to become Adjunct Professor in Sustainability and Co-Director of the Alliance 21 project at the United States Studies Centre at the University of Sydney. He is also a Commissioner of the Global Ocean Commission.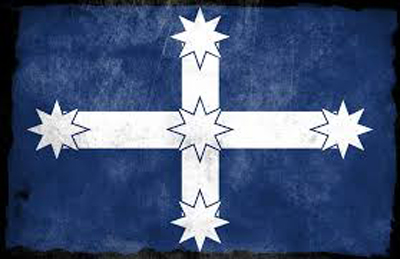 HOME RULE: government of a colony, dependent country, or region by its own citizens, under British Commonwealth.

The British Crown is the only 'absolute' owner of land in the UK and all Commonwealth countries, as prescribed in the Commonwealth of Australia Act 1900 ('the 1900 Act'):
"all other property owners hold an 'interest in an estate in land' – except in Australia, where the High Court Mabo Act of 1992 gave Aboriginal Australian people, alone, full title to their traditional land, on the grounds that, The doctrine of tenure applies to every Crown grant of an interest in land, but not to rights and interests which do not owe their existence to a Crown grant (Mabo (No. 2) v Queensland (1992) 175 CLR 1. 48 (Brennan J)."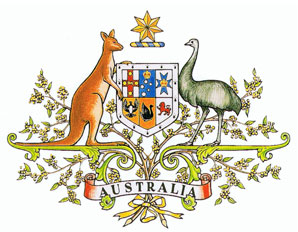 See a quick overview of the history of land title in Australia in this google books scan, p. 45 & 46, from The Boundaries of Australian Property Law (2016) published by Cambridge University Press, edited by Hossein Esmaeili, Associate Professor of Law and the Associate Dean (International) of Flinders University Law School and Brendan Grigg, Senior Lecturer at Flinders University Law School, with a background in native title law and environmental law.

Also recommended: a "comprehensive and authoritative coverage of all aspects of the contemporary law of real property:"
– Charles Harpum, Stuart Bridge and Martin Dixon Meagre & Wade: The Law of Real Property (Sweet & Maxwell, 8th ed, 2012)
See also, A Legal Bibliography of the British Commonwealth of Nations. The First Edition, Vol. 1, 1925, was titled, "Sweet and Maxwell's Legal Bibliography–English Law to 1650".


"If we are born with equal rights, why are some people rich, while most people are poor? It is really about justice – economic justice. Social justice is a worthy aim, but without economic justice it is unattainable. There is a fairer way to share the earth's bounty, so that the widening gap between rich and poor can be closed."
– Leo Foley, Hobart City Council, Tasmania, Australia


Quick overview
Australia's future tax system–an honourable lineage
Inspired by China's 'ancient' methods, aka Neo-Confucianism, including China's 4000 year old land tax system, during the mid-1700s French aristocrats launched the "Single Tax" debate, which inspired Adam Smith to write The Wealth of Nations (1776), formally launching Classical Political Economic theorem aka Classical Economics.
In Who Owns the World (2009), Kevin Cahill stated:The purpose of all the feudal land laws, derived from the fundamental principle of the feudal system was to prevent the population owning land. ... landownership in too few hands is probably the single greatest cause of poverty.
And of economic collapse.
And of class.
And of oppression.
The 'Single Tax' solution to Feudalism
On the 4 August 1789, following the 14 July Storming of the Bastille, the French National Assembly ended feudalism by changing their tax system - enacting the 'Single Tax' on all access to land. One hundred years later, in 1879, the highly energetic public-spirited journalist Henry George explained the fundamentals of the 'Single Tax' system to international audiences with his self-published best-seller, Progress and Poverty (pdf).
See more here
Vision for the future
Back to top

The debate continues...
...greater equality usually makes most difference to the least well off, but still produces some benefits for the well off. ... higher levels of income inequality damage the social fabric that contributes so much to healthy societies.
– Epidemiologists Richard Wilkinson and Kate Pickett
The Spirit Level: Why More Equal Societies Almost Always Do Better (2009)
There is a big discovery to be made, and this lies in an epochal change.
– Bryan Kavanagh
One of Australia's leading analysts on the inter-relationship between land and the economy, Bryan Kavanagh spoke to the value of collecting Economic Rent instead of income and business taxes when I interviewed him on 18 April 2008:


Excerpts:
When it comes to economics, the reintegration of the theory of land valuation is essential. It's the new frontier —just as we sent Voyager out to explore space.
We're at a turning point where the economy is not working for us. There is a big discovery to be made, and this lies in an epochal change—the rediscovery of Resource Rent: Shifting—transferring taxes to Resource Rent is going to open the way for a whole new development for humanity.
The implications for humanity are greater freedom, more time for relaxation, for family, more time for the arts, and far less government control of our lives. These ideas might sound mystical, but they are the sorts of solutions that could be delivered to us, once we pass through this new frontier.
It's not just land rents we want to capture. We want to capture licenses for electromagnetic spectrum, aircraft slots, all forms of forestry and mineral licenses, all resources. These would supplement our charges on land values, and add to the enormous Resource Rent pot, that is now 285 billion—more than our current [Australia 2008] level of tax revenue.
We've witnessed the progressive loss of a sense of community, and land rents represent community. If we collected Resource Rent, we'd get rid of poverty.
We have a widening gap between wealthy and poor because the wealthy are capturing Resource Rent.
We've got to rediscover the land tax system. This would open up enormous benefits. It would fund infrastructure, education, health, all of these areas that are crying out for funds, and this fund is sitting there, being grossly capitalized by individuals and causing us to ratchet up taxes to fund them. But if we decrease taxes, and capture more of the Resource Rent, we would be doing as nature intends us to do—using growing Resource Rent funds for public purposes.
Sometime this century, after four billion years, some of Earth's regulatory systems will pass from control through evolution by natural selection, to control by human intelligence. Will humanity rise to the challenge?
– Professor Tim Flannery


Have we morphed from constructive industrial capitalism into a fatal form of finance capitalism?
"Understanding the role of land in the economy was critical to classical economic analysis. Although it is even more critical today, it is ignored. Instead of surface land rent remaining near Petty's estimation, as about 30% today, the neoclassical economist continues to promote the lie that it is now only about 1%. This Great Untruth is the main reason for the global financial collapse – and the 0.1% manage to keep it in circulation by way of the pathological study into which modern economics has degenerated. Bring back the intellectual rigour of Sir William Petty and the classicists!"
– Bryan Kavanagh Land Valuer (Ret.) Australian Tax Office
We should know better by now
In Beyond Brexit: The Blueprint (2016), Oxford-trained investigative journalist and economist (LSE) Fred Harrison's perspective is in keeping with the Australian Treasury Dept's preferred solution to current international crisis:
"... the timetable for how Theresa May's government can expand the UK economy by slashing taxes imposed on people's wages, and replacing the revenue with the one charge that does not distort behaviour. By raising revenue via an Annual Ground Rent, the size of the UK market would be expanded by more than what would be lost if the EU imposed tariffs on British exports. >>> more
"If land value is taxed, the land will not flee, shrink or hide."

– Professor Fred Foldvary, San Jose State University
There are only two choices - action or inaction
One way of supporting climate and environment is to introduce policies that recognise the gift that land and resources is to ALL humanity. It is not for the few, and the starvation of the many, including wildlife and degradation of the earth itself. Please recognise that, with all people being equal under the law, then all people also have equal access to the bounty of the land and her resources. Personal slavery may have been abolished, but now there is slavery to the banks because of private wealth in land. Please make land a community asset, as it is in the ACT [Canberra], where people can take leases on it, essentially 'owning it', and please make the leases payable to the community - not individuals.

– Jane McNab, a Canberran living in Melbourne
(Personal communication)
Back to top
Go To: Australian Early Settlement
Or, go to Australian Tax News updates