Moyers Report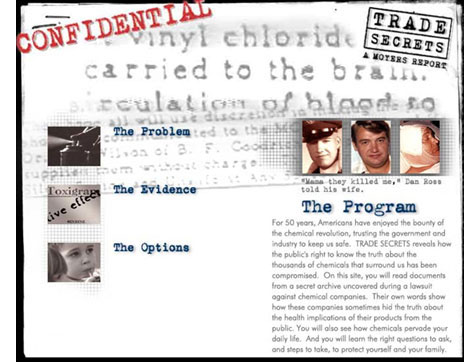 The chemical revolution of the past 50 years has altered nearly every aspect of our lives. Many of the products we rely upon every day – from plastic bags to computers – would not exist without synthetic chemicals. Most of us believe the chemicals in consumer products have been tested and approved by some government agency. In fact, until they are proven harmful, most chemicals are presumed safe.
Excerpt
NARRATION: They are everywhere in our daily lives - often where we least expect them.

DR. PHILIP LANDRIGAN, CHAIRMAN, PREVENTIVE MEDICINE, MT. SINAI SCHOOL OF MEDICINE: We are conducting a vast toxicologic experiment, and we are using our children as the experimental animals.
NARRATION: Not a single child today is born free of synthetic chemicals.

AL MEYERHOFF, FORMER ATTORNEY FOR THE NATURAL RESOURCES DEFENSE COUNCIL:
With chemicals, it's shoot first and ask questions later.
NARRATION: We think we are protected but, in fact, chemicals are presumed safe - innocent - until proven guilty.
SANDY BUCHANAN, EXECUTIVE DIRECTOR, OHIO CITIZEN ACTION: Years of documents have shown that they knew they were hurting people, much like the tobacco industry.
PROFESSOR GERALD MARKOWITZ Ph.D, JOHN JAY COLLEGE: Historians don't like to use broad political terms like "cover-up," but there's really no other term that you can use for this.
NARRATION: In this special investigation, we will reveal the secrets that a powerful industry has kept hidden for almost fifty years.
Read the full report here.